*North American Mix (a selection of works from Canada and the USA)*
---
*Foucault WHO?*
USA,2002/ Jed Rosenthal Bell, Wickie Stamps/15min
language: English, subtitles: Japanese
http://www.headswillroll.net/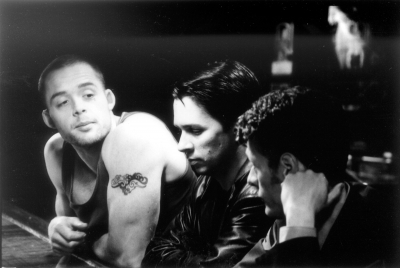 In a gay S&M bar, tonight is Foucault Night. The regulars are too busy talking about sex and philosophy to notice the warnings being coming from the faulty television behind the bar. A serial killer is in the area, armed and dangerous...
* Pimp and Ho: Terror in Pansy Hills*
Canada,2005/Mark Kenneth Woods/10min
language: English, subtitles: Japanese
http://www.markkennethwoods.com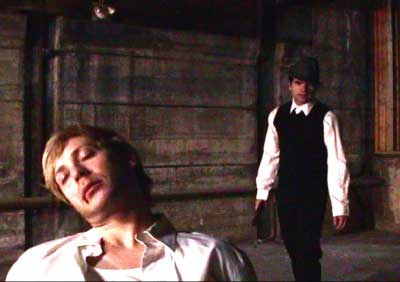 In Pansy Hills, queers are dieing in mysterious circumstances. The flamboyant duo Jonny Pimp and Honey Ho are called in to investigate. As they search for clues, a conspiracy comes to light with an unexpected source. Help! We're not ready to die!

*Kathleen's Closet*
Canada,2005/Sheila Jordon/14min
language: English, subtitles: Japanese
http://www.videoout.ca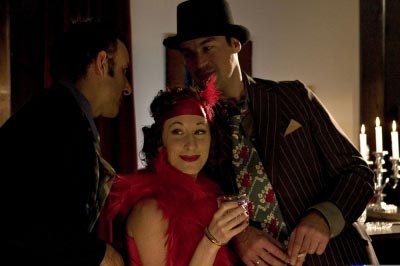 The protagonist is a nurse whose job is to care for an elderly woman named Kathleen, who is nearing the end of her life. While Kathleen is sleeping, the nurse takes a look inside her closet and uncovers some precious memories from another time. A heartwarming story.

*LA Dolls*
USA,2005/Lori Kaye, Les Thomas/18min
language: English, subtitles: Japanese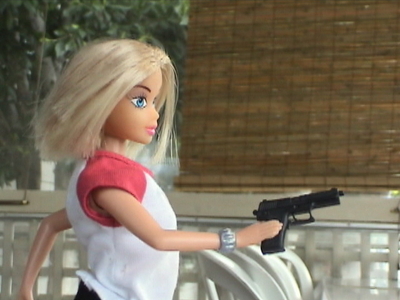 The setting is Hollywood, city of dreams. Lori, a New Yorker who dreams of scriptwriting success meets California native Les over the internet. Les was in therapy searching for "real love", but the two of them come together working on the script for a musical together. Will they be able to find true love and success in Hollywood? The 25cm dolls provide a comical touch to this film, but the drama is very human.

*Toilet Training*
USA,2003/Tara Mateik and the Sylvia Rivera Law Project /30min
language: English, subtitles: Japanese
http://www.srlp.org/index.php?sec=05A&page=toilettraining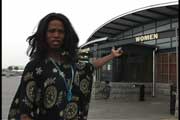 How many times a day do you go to the toilet? There are toilets in the subway, at work, school, in parks - virtually anywhere that people gather in numbers. But a toilet is more than just somewhere to go when the need arises. It is also a gender segregated part of public space. When we say this is for convenience and safety, whose convenience and safety are we considering? And whom are we ignoring? What for you may be a safe space represents for others a source of fear, humiliation and violence.

*Some Real Fangs*
Canada,2005/DESIREE LIM aka DEZ/34min
language: English, subtitles: Japanese
http://www.desireelim.com/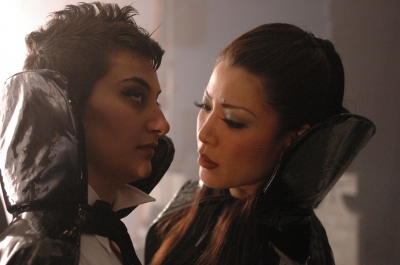 To become a real vampire, Tara needs to kiss her true love before the lunar eclipse. With the 'help' of her friends, her horror movie maniac roommate, and a supposedly deceased grandmother, she searches for The One. Will Tara finally be able to move on from drinking tomato juice?

*Drive Thru*
USA,2005/Jed Rosenthal Bell/4min
language: English, subtitles: Japanese
http://www.headswillroll.net/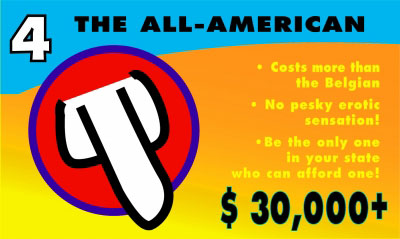 Willie's Drive Thru-"America's First Drive Thru Surgicenter for the Female-to-Male Transsexual"-serves up surgery, hormones, and social/
sexual bafflement in this cheerfully animated, bitterly true-to-life satire of the female-to-male (FTM) transgender experience.
Your typical transgender film is a documentary, usually focusing on the male-to-female (MTF) side of the story, made by a non-trans
filmmaker, and offering a heartwarming look at the struggles and successes of people who have gone down the tranny path.
DRIVE THRU is not that film.
Filmmaker Jed Bell drags his audience through the overwhelming sex-change experience by putting the viewer in the driver's seat. And at
Willie's Drive Thru, none of the surgeries are sugar-coated-and every item on the menu is hard to swallow.
---